Is it time to add Personal Financial Planning Services to your tax practice?
Now may be the perfect chance to step back and evaluate your business. What do you enjoy most about your business? Are there aspects you want to change and grow? At CPAlliance™, we understand that CPAs work hard to help their clients each tax season, but what if there was a way to offer your clients more services and help them become financially independent — all while reducing your number of working hours, growing your business, and increasing your profits?
Becoming a CPA Financial Planner can do just that!
This insightful worksheet can help you determine if you're ready to become a CPA Financial Planner by asking you crucial questions, including your why, what, and who of your business. Download it now and get one step closer to transforming your tax practice.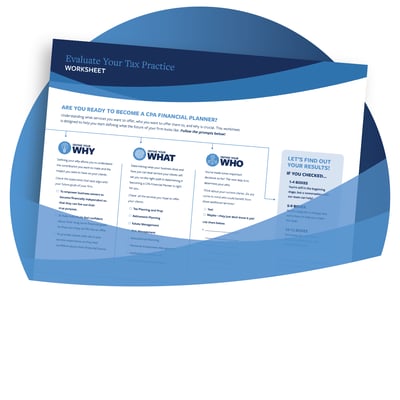 EVALUATE YOUR PRACTICE NOW!
Our Evaluate Your Tax Practice worksheet is just a few clicks away! Complete the form below to download it now.